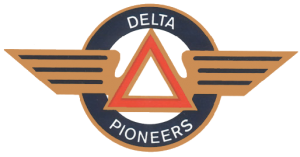 Delta Pioneers is an organization that welcomes all retirees from Delta Airline, and all associated merged airlines, to the monthly meeting to socialize and share their experience after retirement. Meeting for lunch on the fourth Wednesday each month. There's fun, chit-chat and prizes.
Download and print the form to acquire a new Delta retiree ID card
IE 9 Required for DeltaNet Access Beginning Jan. 1, 2016
By Staff Writer, Corporate Communications
Delta computer equipment is being upgraded to Windows 7 and Internet Explorer (IE) 9 to meet Delta's security reliability standards. The project will be completed by Dec. 31, 2015.
After December 2015, IE 6, 7 or 8 users will not be able to log into DeltaNet through the extranet. Employees accessing DeltaNet remotely through personal computers or laptops will need IE 9 or above IE10, IE11, Google Chrome, Firefox, or Safari.
In addition to security reliability standards concerns IE 6, 7, 8 will not function with the upgrades planned for many Delta applications in 2016.
Jon J Maynard
President Yellowbird Chapter of Delta Pioneers
2nd Vice President of Delta National Pioneers
Delta Employee and Retiree Care Fund
(H) 617.787.2620
(E) jjmaynard@usa.net
December 28, 2015
8:00 am - 5:00 pm
The Luncheon is being held December 16th, one week early because of Christmas.  Plan to attend for the latest information on what's happening at Delta Airlines